Meet an Author–TC Matson!
Meet my guest author–who graciously agreed to be my first author interview–*drum roll*
TC Matson!
TC's one of my very best friends & I lobe her tons (yes, lobe, inside joke 😛 ) She writes contemporary romance and her dudes are YUMMY. I think they've all been my book boyfriends at one point or another 😉
Let's find out a little bit about TC!
1. What's your hidden talent?
TC: I have a selective photographic memory. More times than not, I won't remember your name, but I can tell you what you were wearing, where you were standing, etc. (Except for when I was 11-20. Those are pushed back for good reasons.)
2. If you could turn any activity into an Olympic sport, what would you win a medal for?
TC: Post-It Note scribbling. I'm surrounded by them and I can scribble something down, stick it somewhere only to forget about it faster than you could write your name 😊
3. What's your go-to band when you can't decide what to listen to?
TC: Oh damn. I have a huge mixture in taste of music. From pop to country. My go-to music is definitely heavy metal, but again, it's all on my mood. If you check out my Spotify, you'll understand I'm all over the place. I'm like a one person party.
4. What's something you think everyone should do at least once in their lives?
TC: Hug a stranger. It'll spread some love in this hate-filled world.
5. What's something that a ton of people are obsessed with but you don't get the point of?
TC: You're trying to get me shot! I don't get the obsession with The Bachelor/Bachelorette, Walking Dead, or Games of Thrones. Maybe I'm not normal, but I cannot get into any of the shows. (DUDE…The Bachelor/Bachelorette & GoT?? Do I have to call off this friendship? 😛 )
6. What are you looking forward to most in the next 10 years?
TC: With my writing—Growing and bettering myself.
With my personal life—Watching my kids grow up to be something fabulous and change the world.
7. What fad or trend do you wish would come back?
TC: I've never been super fashionable, so I'm stuck with a blank.
Oh! Do you remember Umbro shorts? HAHA! They were the best! I don't know if they're still around, but that would be funny as hell to see everyone sporting a pair. You know, basketball pros. Are they still around? Do you remember them? Can you picture the guys in them now? HAHA! They were so short we'd get a "sneak peek." (I remember them & I think they were mostly for soccer? Sneak peeks? LMAO reminds me of Bleeker's track team in the movie Juno 😳 )
8. Would you rather give up bathing for a month or give up the internet for a month?
TC: Bathing! I can't live without the internet, but I can wipe down with a baby wipe and insanely overuse dry shampoo. (Uh …same 😂 )
9. What's the first book that made you cry?
TC: Odd Thomas by Dean Koontz. Omg, I've never cried so hard over a book in my life.
10. If you could market/sell only one of your books for the rest of your life, which would you choose and why?
TC: This is harrrrd! (I whined that just so you know) I think Open House because it shows that you can have strength in anything you do. Life is how you make it regardless of the hand you've been dealt. It's up to you to make the decisions to fix it.
11. Which character have you written that's most like you?
TC: Most of my female characters, at some point, have a part of me, whether it's something they say, do, wear, or how they act. Not much. Just a smidgen to drop more of my heart into the pages.
12. What do you munch on when writing?
TC: Any damn thing I can get my hands on! Red Hots, Smarties, sunflower seeds. Lately I've been on a beef jerky kick. (Right now I'm tearing into a box of Red Hots while filling this out.)

(Smarties mmmmm 😉 )
13. What one thing would you give up to become a better writer?
TC: Give up? As in a limb? A sense? Shit, I'd cut off my left leg to become a better writer LOL Maybe even my Post-It note sport…

( 😂 )
14. If you had to do something differently as a child or teenager to become a better writer as an adult, what would you do?
TC: The experiences I've lived through offer me some "inside" information most people shouldn't have to experience.
15. Have you ever Googled yourself?
TC: I'm scared to LOL My son has for a class project. Nothing too interesting came up.
16. Music or silence when you write?
TC: Music is a MUST. Silence causes the chatter to become way too loud.
17. Is there any other genre you'd like to try writing?
TC: I'd love to try a full on mystery with a touch of paranormal, but with my romantic brain I'd have two ghosts falling in love, creating ghost babies or some crazy shit like that.

(bwahahaha)
But you and I have spoken about a curveball of a book that spawned from an incident in my life. That would be a twisty mystery with a touch of CRAZY. I've poked around on that idea here and there, but pulling it together…we'll see. I've got to tap into a side of me that's sinister.

(Sinister TC sounds awesome <–sang that last word in an opera voice 😝 )
18. If you could spend the day with one of your characters, who would it be and what would you do? (I know which of your characters I'D spend the day doing "things" with 😈 )
TC: Really? Who would you do these "things" with?

(Psh Ryker, of course…or maybe Levi…or Tanner…or… 😉 )
Female—I'd chose Candice (No Holds). Her personality is hilarious and I swear we'd spend more time laughing than anything else. Truthfully, most of my secondary females are fun.
Male—Ryker. All day long. He's got a rough shell to his sweet side and I'd do my best to have him forget Whitney. Wait. On second thought, maybe Trenton (Open House). No, probably Adam (Awakened). Crap! I can't decide on just one. This question isn't fair. I call for a party with them all!
19. Which character in your books would you be least likely to get along with?
TC: Hmm…Brian from Open House. He's an ass. Or Allison from the Fighter Series. I can't stand her. She's no good and twatty.

(twatty 😂 )
20. How do you choose the names of your characters?
TC: Some of them come to me like: Levi, Paige, Ryker, Whitney, and Trenton. They "birthed" themselves. They came to me as a whole, meaning their looks and personality was already there. I didn't have to fill in the blanks. With the others, I write down names I really like and once I get a feel on the character's personality, I match the name with them.
21. Your latest book, No Holds, continues your Fighter Series. What got you into writing MMA?
TC: The sport. I love UFC and all things martial arts. Pair that with a sexy hunk and a taste of romance, and you've got yourself a gem of a man.
22. What's one thing you'd like readers to get out of your books?
TC: Never, ever, ever give up. Always remember when times seem dark, the sun is shining behind the clouds. It will shine again. Always push forward.
23. What's the best compliment you've gotten when it comes to your books?
TC: This is a toss-up. I LOVE receiving messages from readers of how much they loved something from one of my books or "when's the sequel releasing." But the best compliment is when I see my fans/readers spreading the word. THAT gives me the feels.
The next up would be when a "bigger" author has read my book and contacts me. Gah. Talk about fangirling.
24. Can you tell us what you've got coming up next?
TC: Well, of course we have No Hesitations, which is Ryker's sequel releasing in the fall *screams and twirls* I also have a surprise novella that I've planned for the end of the year *throws confetti* But after that, I'm taking a little break from my MMA men. I'm working on a new standalone series. Three well-off business owners who enjoy the single life way too much. Those will release throughout 2018.

(Sa-weet!)
You can pick up TC's latest book No Holds on Amazon by clicking on the HOT cover below!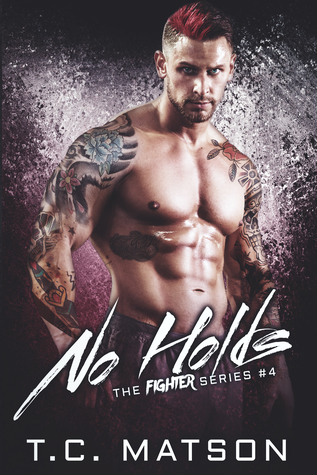 Thank you, TC, for the interview! You rock, woman!
Find out more about TC Matson